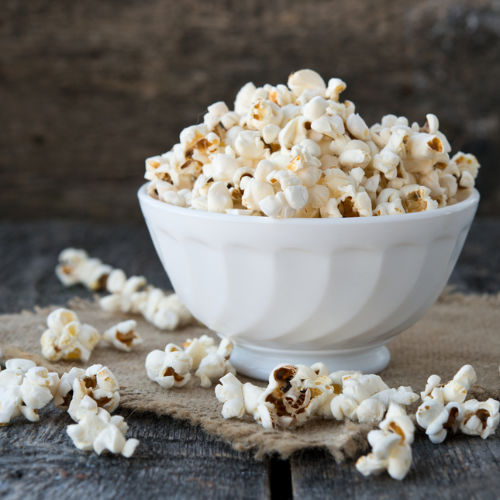 Popcorn is so easy and quick to make and is a good healthy snack (as long as it's not the shop bought sugar laden variety!). You can really vary the toppings, here are just a few suggestions:
Balsamic popcorn (serves 4)
Drizzle 1 tablespoon of good quality aged balsamic vinegar over 4 cups of air popped popcorn.
Dark chocolate & sea salt popcorn
Melt 50g of good quality dark chocolate (you want it to be at least 70% cacao) in a bowl over a saucepan of boiling water. Once it's melted grind some good quality sea salt (about two good grinds should be enough, you don't want it to be too salty) into the chocolate. Whilst it is still liquid. Using a spoon drizzle the chocolate over 4 cups of air popped popcorn.
Paprika & chilli popcorn
Ingredients:
¼ tsp salt
¼ tsp chili powder
¼ tsp paprika
4 cups of air popped popcorn
Method:
Mix the spices together in a bowl and then sprinkle over your popcorn, mixing well. Taste, add more spices if you prefer it more spicy!