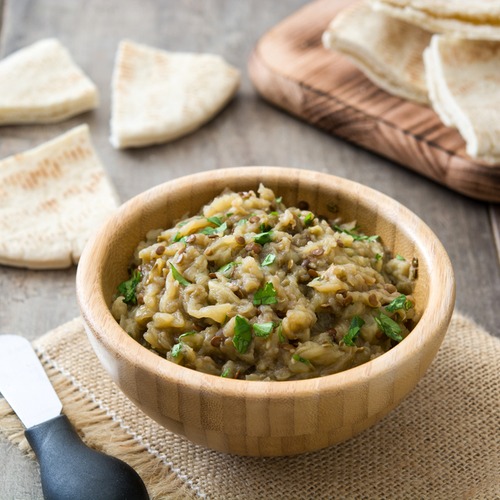 Baba ganoush aubergine (or courgette alternative)
This hearty dip is great either paired with a salad or combined with some chicken, yogurt based dip or guacamole in a wrap. Yum!
Ingredients:
1 aubergine (or try using two courgettes – grilled unti soft and very slightly blackened) But not burnt!
1/2 lemon
1 tbsp tahini
1 garlic clove
1-2 tbsp virgin olive oil
1/4 tsp chilli powder (optional)
Method:
Preheat the oven to 180 degrees Centigrade.
Cut the aubergine lengthways.
Drizzle with olive oil and bake for around 40 minutes, or until they have gone soft.
Leave to cool,
Scoop out the flesh, discarding the skins.
Put in a food processor with the garlic, tahini, lemon juice and olive oil.
Season.
Blend until smooth.
Taste, If it's not smooth enough add some more olive oil. You may want to add a bit more lemon juice. If you prefer it with a bit of a kick then add a little chilli powder
It should be thick and gloopy!