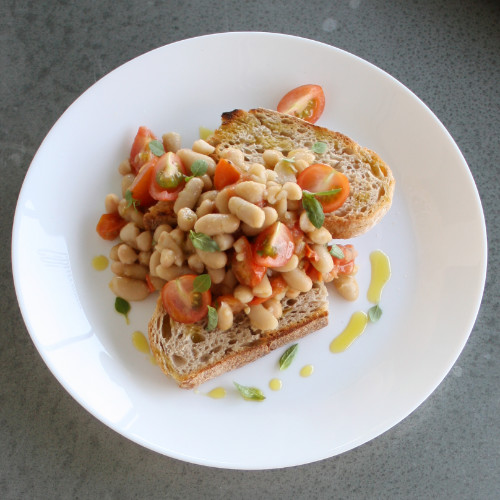 Brushetta with cannellini beans & cherry tomatoes
Beans are packed full of fibre that helps keep you full for ages. Don't be fooled if it doesn't look like much on your plate. Paired with a tasty salad this meal is sure to keep you nourished and satisfied.
Ingredients:
2 Slices of wholemeal sourdour bread
2 tbsp extra virgin olive oil
Sea salt / black pepper
1 Clove garlic cut open
75g cherry tomatoes
1 x400g tin cannellini beans (drained)
Few leaves fresh basil
Method:
Wash and chop the tomatoes into quarters.
Heat the olive oil in a frying pan, once hot, add the tomatoes, season and cook until softened. (About 5 mins).
Add the beans, stir gently and cook for a further 2-3 minutes.
Don't let them dry out, add a little water if necessary.
Meanwhile heat a griddle pan.
Drizzle the bread with olive oil on both sides and cook on the griddle pan until slightly blackened (not burnt!) so lines appear on it.
Rub the garlic clove over both sides of the bread.
Top with the beans and tomato mixture and the basil leaves.