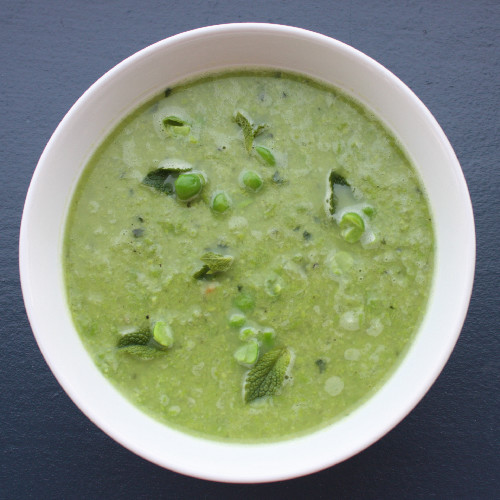 Chilled pea and mint soup
Why we recommend soup as a starter? Sometimes, by only knowing it is lunch time we rush to eat without distinguishing if it's real or emotional hunger. A cold soup full of nutrients can be a great choice to help you slow down you anxiety. Moreover, it will fill up your digestive system before stuffing yourself with other meals or snacks. This green cool soup it's a great alternative to obtain potassium, needed for muscular contractions and useful to avoid unnecessary muscle cramps.
Ingredients:
Serves 2
½ tbsp coconut oil

1 onion, minced

250ml vegetable stock

8 mint leaves

300g petit pois or garden peas

Pinch of salt and black pepper
Method:
Melt the coconut oil in a medium sized pan, add the minced onion, and fry on a medium heat until soft but not browned (about 3 minutes).
Add the stock and bring to the boil.
Add the frozen peas and mint leaves and bring back to the boil. Simmer until the peas are cooked (about 3 minutes). Season with salt and pepper to taste.
Use a stick blender or transfer the soup to a blender and blend until smooth.
Put the soup into your fridge and chill until it's cold and ready to serve.
If you prefer you can reheat the soup and serve it warm.