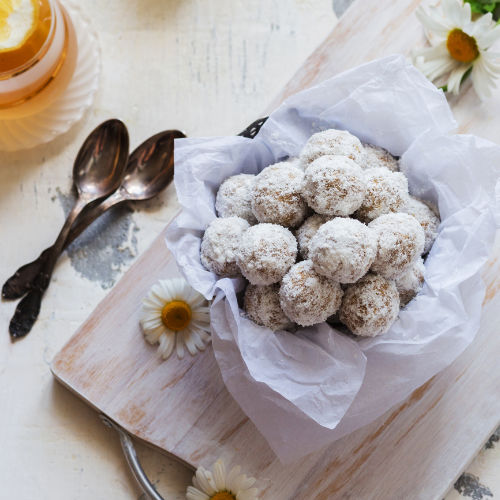 Chocolate, chickpea, fig and almond balls
Ingredients:
Makes about 16
400g tin of cooked chickpeas, drained
50g dried figs, chopped
100g of cashews
2 tbsp of raw cacao
1 tbsp of maple syrup or honey
pinch of sea salt
Unsweetened dessicated coconut to decorate, or you could use sesame seeds or cacao powder.
Method:
Begin by draining the chickpeas and rinsing under cold water, then pat dry to remove any excess water. Add the cashews, figs cacao, maple syrup and salt to a food processor and blitz until mixed and has become a sticky dough form. Next take out spoonfuls of the mix and shape into balls, pop into the fridge to firm up. When this is done roll in your preferred outer coating.
They can be stored in the fridge or freezer.