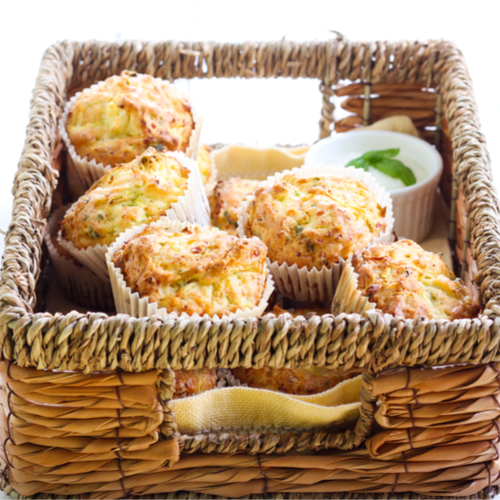 Looking for a healthy, satisfying, savoury snack to try? Why not give these morish muffins a go? A super, protein rich snack to slip into your bag to beat those hunger pangs, or also makes a great addition to any child's lunchbox.
Ingredients:
Option to make gluten free
Makes 12
100g wholemeal spelt flour (Can replace with gluten free flour)
20g jumbo oats (can use GF oats)
1tsp baking powder
¼tsp bicarbonate of soda
A small pinch salt (depending how salty your feta is)
A good grind of black pepper
Handful of basil leaves, shredded
1 egg
125g Greek yogurt
2tbsp olive or rapeseed oil
100g courgette, grated
20g pumpkin seeds
40g feta
Method:
Heat the oven to 200C and line a muffin tin with 6 paper cases.
n a large bowl, combine flour, oats, baking powder, bicarb, salt, pepper, and basil.
In another bowl, whisk together the eggs, yoghurt and oil, add this to the dry ingredients and stir with a large spoon until roughly combined.
Add the courgettes, feta and pumpkin seeds and stir until just evenly distributed.
Spoon the batter into the paper cases and bake for about 20 minutes, until a toothpick inserted into the middle of a muffin comes out clean.