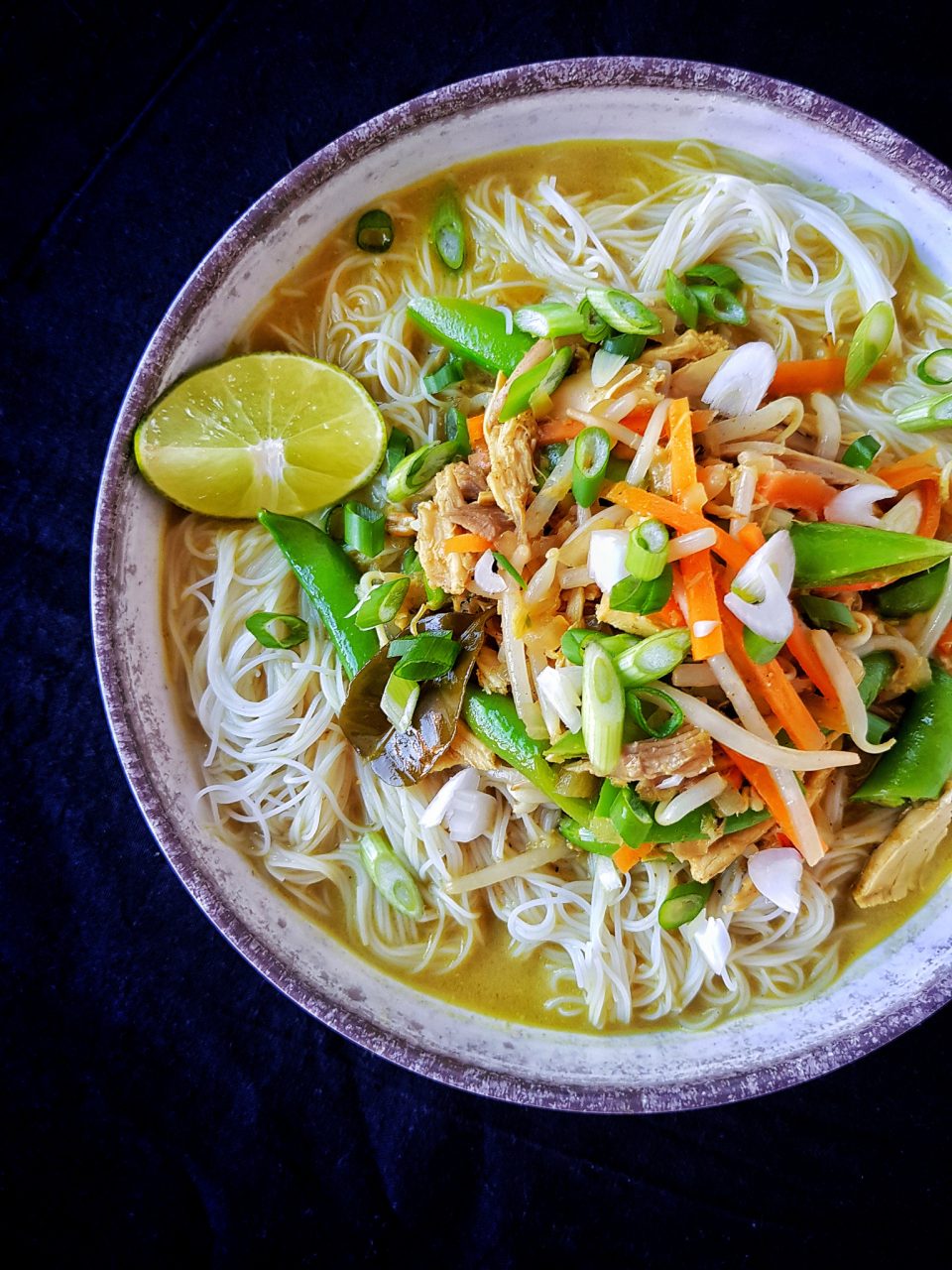 Who doesn't enjoy a good noodle slurping! Make this curry noodle soup recipe your own with whatever vegetables and protein you have to hand. I often use leftover roast chicken, but you could also use prawns, tofu or even just pack it full of vegetables. Bean sprouts are a must though!
This recipe was developed with Kitchen Titbits.
Serves: 2
Ingredients:
1 tbsp groundnut oil
1/2 onion, finely chopped
2 cloves garlic, grated
1 inch piece of ginger, grated
1/4 tsp ground cumin
1/2 tsp ground coriander
1/4 tsp turmeric
1 tbsp curry powder
Salt and pepper
1 can coconut milk
1 red chilli, left whole but slit in half part way
5 lime leaves (I used frozen, you could use fresh or dried, or leave out and use extra lime – not quite the same but it'll still be tasty)
Leftover roast chicken, prawns, or tofu
Your choice of veg (I used thin batons of carrot, sugarsnap peas cut in half and beansprouts)
1 lime, cut in half with one half cut into two wedges
2 portions of rice noodles, cooked or soaked according to the instructions on the packet
2 spring onions, finely chopped
Handful of chopped coriander (if you have it)
Equipment to have ready:
Large saucepan
Fine grater
Teaspoon measure or teaspoon
Tablespoon measure or tablespoon
Sharp knife
Chopping board
Wooden spoon
Method:
In a large pan, heat the oil over a low heat then add the onions. Cook until soft but not brown.
Add the garlic and ginger and cook gently, stirring all the time until the smell of raw garlic has gone.
Add the dry spices, salt and pepper. Stir continuously for a couple of minutes so the spices start to cook out but not burn.
Pour in the coconut milk and half a can full of cold water.
Add the red chilli and lime leaves, bring to the boil and simmer gently for 15 minutes. Taste and remove the red chilli if it is spicy enough.
You can cook ahead up to this point to finish later or the next day and the flavours will develop further. When you're ready to eat, simply bring the soup back up to the boil and reduce to a simmer.
Add the chicken, prawns or tofu and vegetables (except the beansprouts) and cook for a few minutes until they start to soften.
Add the beansprouts and squeeze in the juice of half the lime. Taste and add more salt, if needed.
Split the noodles between two bowls then ladle the soup over the top.
Finish with a wedge of lime, the spring onions and coriander then slurp away. Bib needed!