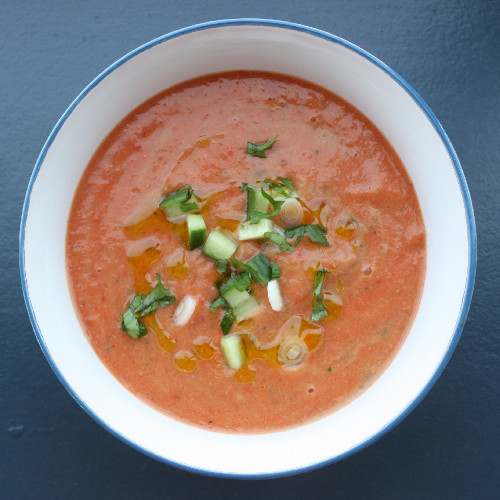 Chilled Spanish tomato based soup. Tomato is a red fruit containing a compound called lycopene with antioxidant properties recommended for heart protection and prevention of many other illnesses.
Ingredients:
Serves 2
50g stale sourdough bread soaked in cold water for 10 minutes

500g ripe tomatoes, roughly chopped

1 red pepper, deseeded and roughly chopped

½ cucumber, roughly chopped

1 clove garlic, crushed

4 tbsp olive oil

1 tbsp wine vinegar

Salt
Method:
Put the tomatoes, peppers and cucumber in a food processor. Add the crushed clove of garlic and olive oil, Squeeze the water out of the bread and add it to the mixture. Blend until smooth.

Add the vinegar and a pinch of salt and blend again. Check the seasoning and add more salt if needed. Cover and refrigerate until chilled and ready to serve.
You can serve with garnishes such as diced hard-boiled egg, black olives, parsley or spring onion.