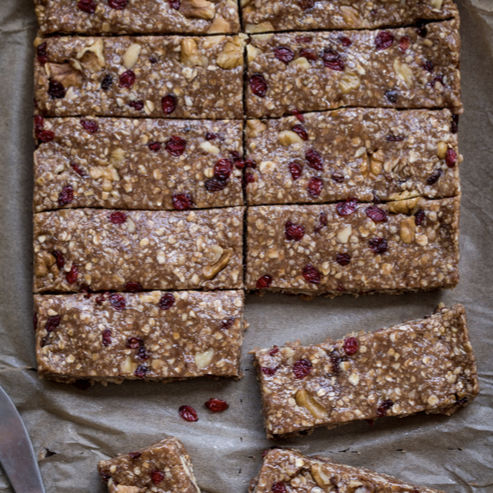 These granola bars are great as the oats, nuts and seeds are full of minerals, fibre and protein.  The natural sugars used only raise your blood sugar levels slightly compared to most shop bought varieties.  If cherries aren't your thing then swap them for dried apricots or raisins.
Ingredients:
Makes 6-8 bars
45g pumpkin seeds
45g pecan nuts, roughly chopped
45g sesame seeds
200g oats
30g mixed chopped nuts (or any nut of your choice, chopped)
45g sour cherries (or could use apricots), roughly chopped
1 ½ tsp cinnamon
100g unsalted butter
Pinch sea salt
70g coconut palm sugar
50g honey or maple syrup
Method:
Preheat the oven to 140 C or 285F.
Line a baking tray (around 20cm) with greaseproof paper.
In a large bowl add chopped nuts, oats, seeds, cherries, cinnamon and salt and mix together.
In a saucepan add the butter, palm sugar and honey or maple syrup and heat gently until the sugar is dissolved and it is a dark golden colour (but don't let it go too dark).
Transfer this mixture into your bowl of nuts and oats and mix well, so it is all coated.
Spread the mixture onto your lined baking tray and pat it down so it is about 1cm thick.
Bake for around 20 – 25 minutes.
Take out to cool, it will then harden and cut into bars.