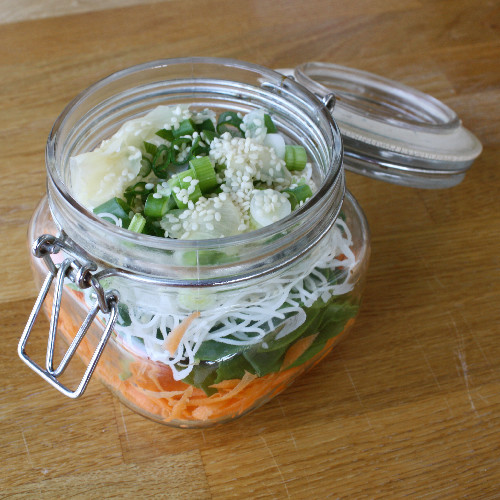 This pot of noodles with miso, sesame, and a ton of fresh vegetables can be made ahead and taken to work. Just add boiling water, seal it up for three minutes, add the contents of the fresh spring onion packet, and you've got a hot lunch ready.
Ingredients:
Makes 2 jars
1tsp grated fresh ginger

2 tsp miso paste

1 tsp vegetable stock powder, such as Bouillon

1 tsp tahini

2 tsp sesame seeds

2 tsp tamari/soy sauce

2 carrots grated

2 handfuls chopped spinach leaves

2 small handfuls mange tout

2 small nests thin rice noodles

2 spring onions chopped

Pickled ginger to taste
You will also need:
Two jars – big enough to fill with your lunch

Two small sealable bags
Method:
Divide the ginger, miso, vegetable stock powder, tahini, sesame seeds, soy sauce, carrots, spinach, mange tout and noodles evenly between 2 glass jars.
Divide scallions and pickled ginger between 2 small sealable bags, and squeeze out the air. Tuck bags into jars and seal. They can be refrigerated for up to 3 days.
When ready to serve, remove the spring onion and ginger packet and add boiling water to the top of the jar. Seal jar and let sit 3 minutes. Open jar, stir in spring onions and ginger, and serve.