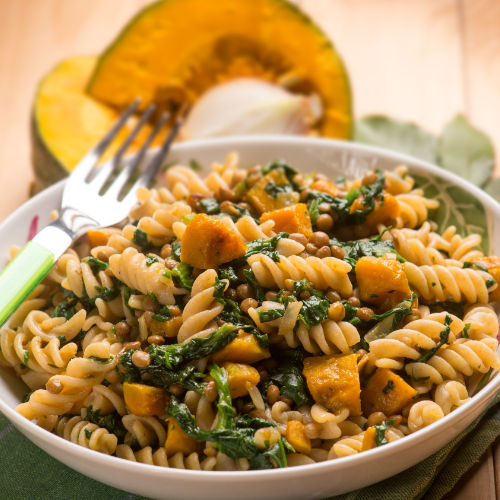 Pasta with spinach and pumpkin
Ingredients:
For 4 people
500g pasta (gluten-free, or whole wheat)

1  tablespoon olive oil

½ medium onion, chopped

½  teaspoon salt,

1 clove garlic, finely minced or grated

1.2 kg pumpkin chopped into small pieces and skin taken off.

1.5 litres water

235ml  vegetable stock

1 tablespoon chopped fresh rosemary

½ tablespoon chopped fresh sage

4 handfuls of spinach leaves, washed

Freshly ground pepper and salt to taste

Parsley for decoration
Method:
Meanwhile, heat the olive oil over medium heat in a large pan. Add the onion, and a sprinkle of salt, and cook until the onions are soft, this should take about 6-8 minutes. Add the garlic and herbs and cook for another couple of minutes.
Add the pumpkin and stir. Slowly add in the stock and cook on a low heat for about 1 hour. Season to taste and turn down to a low heat. Blend with a hand blender to your preferred consistency. Add in the spinach and let it just wilt, it should take only take a minute. Any excess sauce can be kept in the fridge for a few days or frozen.
Cook the pasta as per the instructions.
Mix the pasta with the sauce.