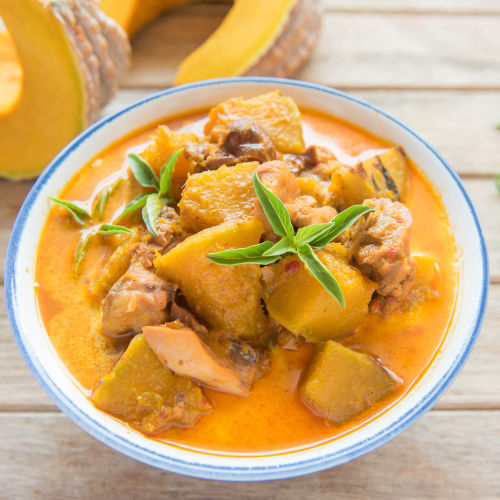 Pumpkin and chicken curry with cashews
You can make this vegetarian by replacing the chicken with chickpeas and leave out the nuts if preferred.
Ingredients:
Serves 6
2 tbsp olive oil
1 medium onion, chopped
500g Chicken Thigh Fillets quartered & skin removed
200ml water
2 garlic cloves, crushed
1 tbsp grated fresh ginger
2 tsp turmeric
2 tsp ground cumin
1 tbsp Garam Masala
1 fresh red chilli, deseeded and chopped finely
400ml can unsweetened coconut milk
500g pumpkin (weighed without skin and seeds and insides removed)
1 tbsp fresh lime juice
150g cashews (unsalted)
1 tbsp cornflour mixed with 2 tbsp cold water to make a paste ( use almond flour if preferred)
6 tbsp chopped fresh coriander leaves
Seasoning: salt & pepper
Serve with brown rice.
Method:
Heat the oil in a saucepan and cook the onion until it starts to soften, about 5 minutes. Add the chicken if you're using, garlic and ginger. Cook until the chicken turns white. Add the rest of the spices and chilli. Add 4 tbsp of the water, stir for 2 minutes. Add the coconut milk and the rest of the water. Add in the pumpkin and nuts and let it simmer for 30 minutes until the chicken is cooked and the pumpkin is soft. Stir in the cornflour or almond flour. Let is simmer and thicken, then add the coriander. Serve with short grain brown rice.