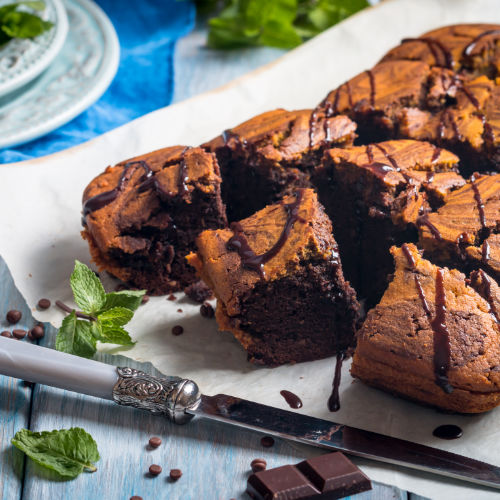 Pumpkin Chocolate Brownies
These easy, one bowl healthy brownies are the ultimate fall treat. Imagine fudgy pumpkin brownies made with all natural maple syrup, coconut flour and almond flour!
Ingredients:
Makes 12 brownies
200g pumpkin puree (ideally homemade)
2 tbs pure maple syrup
2 eggs
1 teaspoon vanilla extract
75g almond flour
3 tablespoons coconut flour
40g unsweetened cocoa powder
1/4 teaspoon salt
1/2 teaspoon baking soda
1/2 teaspoon baking powder
45g chocolate chips
For the topping:
2 tablespoons dark chocolate chips
1 teaspoon coconut oil
Method:
For the pumpkin puree:
Halve a pumpkin & remove the seeds and stringy stuff
Place the seeds in a bowl for roasting later
Chop 400g of 2 inch pumpkin pieces and place them face up on a baking tray
Roast at 180 degrees for 45 minutes or until fork tender
Allow the pieces to cool slightly before removing the skin
Blitz the pumpkin pieces in a food processor/blender or just by hand until totally smooth. Depending on the pumpkin, you might need to add a little water
For the brownies:
Preheat oven to 180 degrees. Line a 8×8 inch pan with parchment paper.
In a large bowl, mix together the pumpkin puree, maple syrup, eggs and vanilla extract until smooth.
Mix in the dry ingredients (almond flour, coconut flour, cocoa powder, salt, baking soda and baking powder) until smooth.
Fold in 1/4 cup chocolate chips.
Pour into prepared pan and spread to the edges. Smooth top with a spatula.
Bake for 20-25 minutes until knife comes out clean. Brownies will not look completely cooked but as soon as the knife comes out clean, they will be done.
Cool on a wire rack for 15 minutes.
Make the topping by melting chocolate chips and coconut oil in a small saucepan over very low heat. Drizzle over the top of the brownies then cut into 12 squares.