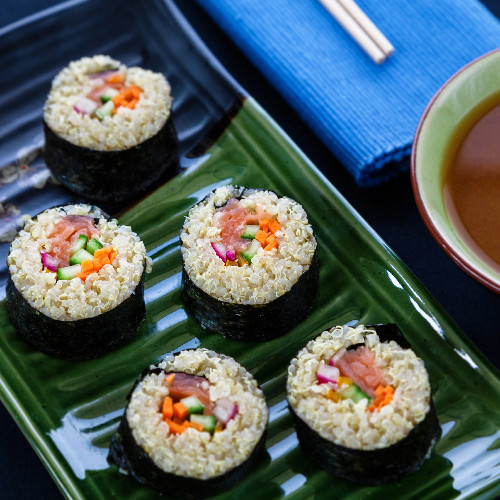 Do you love sushi? Why not try making it with the amazing protein packed grain quinoa? It adds a nutty flavour and as it is a wholegrain, it is much better for balancing those blood sugar surges compared to white rice.
Ingredients:
Makes 2
1 carrot, grated

1tbsp coconut yogurt

1/4 cucumber sliced

half a salmon fillet, cooked

half an avocado sliced

1 tsp rice vinegar, mixed with 1tsp water

1 tbsp sesame seeds

1/2 tbsp tahini

30g quinoa

To add: Wasabi, tamari sauce

A rolling mat (not essential)

2 nori strips
Method:
Cook the quinoa in boiling water for 15 mins. Allow to cool for 10 mins as the temperature of the grain is key, so that the quinoa sticks, to get a good result with the nori sheets.
Whilst the grain cooks, mix the yogurt with the grated carrots.
Once quinoa has cooled mix in the tahini and 2tbsp rice vinegar. The tahini helps the quinoa have the correct sticky consistency – add more if you think it needs it
Lay nori on a rolling mat.
Place the 1/2 the quinoa on the nori seaweed – leaving an inch gap at the top.
Layer the avocado, cucumber, salmon and the carrot on top
Roll the sushi as tightly as you can towards the one inch strip you have left at the top, then spread the vinegar and water mix on the gap of nori to stick and seal the roll
Repeat to make your next roll
You could also try making a backwards roll.
Sprinkle your rolls with sesame seeds. Thinly slice and serve with tahini and wasabi.