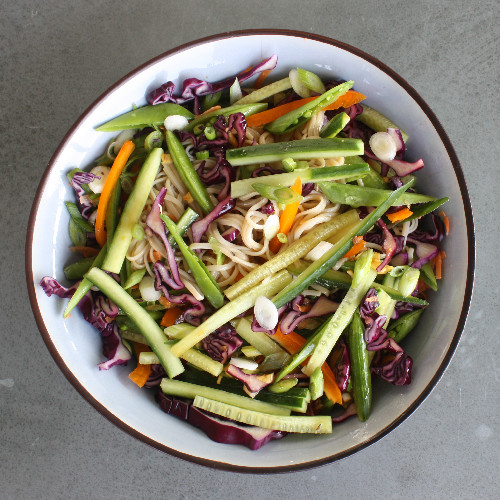 Soba noodles are originally produced in Japan and now obtain worldwide in any supermarket. They are easy to get and cook in about 4 minutes. Traditionally served as a noodle soup but also used for cold dishes such as this colorful salad. They are great source of energy and high in fibre as their principal ingredient is buckwheat flour. Combined with a rainbow of ingredients you certainly will get a whole variety of nutrients including B vitamins, magnesium and phosphorus.
Ingredients:
Serves 2
170g Soba noodles

2 carrots shredded

60g Edamame beans

1 red bell pepper thinly sliced

1 English cucumber thinly sliced

Sugar snapped peas cut in half diagonally

¼ red cabbage thinly sliced

2 tsp sesame seeds

Handful

of

coriander
Soy Dressing:
2

tbsp

tamari

2

tbsp

rice

wine

vinegar

Juice

of

1

lime

Zest

of

1

lime

tsp

of

honey

1

clove

garlic

1

tbsp

sesame

oil

2

½

 t

bsp

coconut

oil
Method:
1. In a pan boil the soba noodles according to their packages instructions for about 4 mins. drain and cool noodles with cool water.
2. In a large bowl combine the soba noodles and all of the cut vegetables and set aside in a serving dish.
3. In a medium sized bowl, whisk together all of the soy dressing ingredients apart from the sesame oil. Gradually add the sesame oil and whisk until combined into a dressing.
4. Pour dressing over the soba salad and add sesame sesame seeds and coriander to toss over and combine.