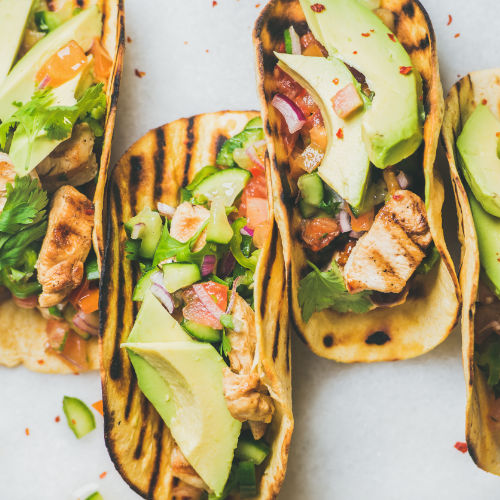 You can use either a tortilla or taco for these recipes:
Roasted cauliflower,olives, pepper with a tomato & pepper salsa
First of all roast the cauliflower:
To roast the cauliflower:
¼ head cauliflower
Olive oil
Sea salt
2 garlic cloves crushed
2 tsps sumac
1 tsp paprika
Preheat oven to 425°F. Cut ¼ head cauliflower into florets, place on a large rimmed baking sheet. Sprinkle over the 2 garlic cloves crushed , 2 teaspoons of sumac, paprika and 1 tablespoons olive oil; season with sea salt and freshly ground black pepper. Roast, tossing occasionally, until almost tender, 35-40 minutes.
Whilst this is cooking make the salsa:
Red pepper salsa
Ingredients:
100g cherry tomatoes, quartered
1 garlic clove, chopped
1 fat green chilli, deseeded and chopped
200g roasted red peppers from a jar
1 tbsp red wine vinegar
Method:
Put the tomatoes, garlic and chilli into a food processor with the peppers, vinegar, salt and pepper. Pulse to make a rough purée. Pour into a bowl and keep in the fridge until ready to serve.
Once the cauliflower is done, but it into your tacos/tortillas with a couple of slices of pepper, some olives, parsley and some sliced red onion and serve with the tomato & pepper salsa. Enjoy!

Healthy corn tortillas with grilled chicken fillet, avocado, fresh salsa.
These can also be made with tortillas or tacos.
First of all make the salsa:
Ingredients:
1 ripe mango, diced
⅓ medium red bell pepper, chopped
½ chopped red onion
2 tbps chopped coriander leaves
¼ red chilli , seeded and chopped finely
½ large lime, juiced
Pinch salt
Method:
In a serving bowl, combine the prepared mango, pepper, onion, coriander and chilli. Drizzle with the lime juice and mix well. Season to taste with salt. For best flavor, let the salsa rest for 10 minutes or longer.
Ingredients for rest of filling:
1/2 avocado
2 inches of cucumber chopped into small chunks
1/4 red onion thinly sliced
Few coriander leaves.
Now using a griddle pan cook the chicken in small strips. Slice up ½ avocado and some cucumber. If you are using tortillas when the chicken is done remove from the pan and keep warm by covering with tin foil on a warm plate. Place the tortillas down on the griddle pan so they warm up and get the griddle pan marks. Then you are ready to add all the filling, into your taco/tortilla: the cucumber, chicken, salsa, some more coriander leaves and the avocado. Yum!
For another filling look at my bean chilli recipe which is great for a taco filling.