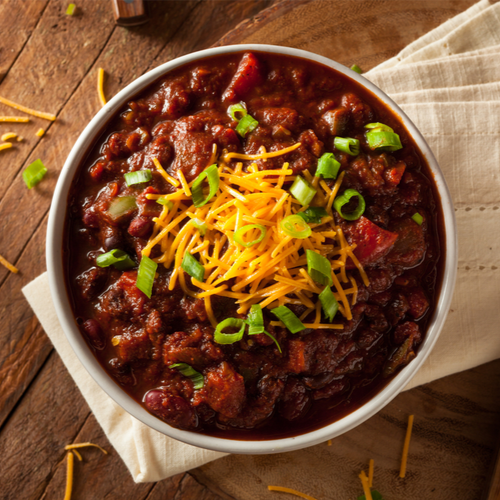 One of the most popular dishes has to be a plateful of good old chilli. Why not give this mouth watering, vegetarian version a go? Abundant in satisfying fibre from the beans and brown rice, this dish is likely to keep your blood sugar levels even for a good length of time.
Ingredients:
Serves 2
200g tin of chopped tomatoes
200g tin of kidney beans*
200g tin of aduki beans*
½ large carrot, peeled and diced
X1 tbsp coconut oil
X1 tbsp tomato puree
X1 tsp ground cumin
X1 bay leaf
½ red pepper, chopped
X1 tsp dried oregano
¼ tsp cayenne pepper
½ red chilli, de seeded and finely chopped or 1 tsp dried chilli flakes
½ large stick of celery, washed and chopped small
½ medium onion, diced
X1 clove garlic, finely chopped
Small handful of chopped coriander
Brown rice
*You can use dried beans, but this will take much longer as they will need soaking overnight, see packets for instructions.
Method:
Heat the coconut oil in a large pan over a medium heat.
Add the chopped onions garlic, pepper , celery and carrot, and cook until the onions are golden (approx 10 minutes).
Once softened add in the spices (oregano, cumin, bay leaf, cayenne and the chilli), then the tomato puree.
Cook for a further 2-3 minutes, stirring.
Then add all the beans, including the liquid and then the tinned tomatoes.
Bring to a boil, stir and then let it simmer for about 15 minutes. Keep checking it doesn't dry out, you add some water if necessary.
Season with salt & pepper.
The beans should be cooked through and soft.
Sprinkle over the chopped coriander.
Serve with brown rice & a green salad.