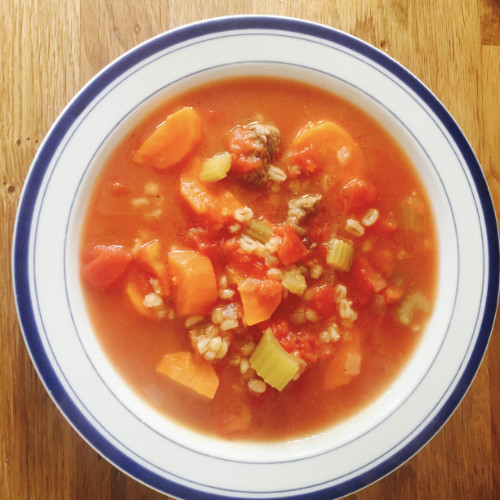 Again, is it a stew or a soup? Whatever it is, its hearty and filling and one of my favourites! For gluten free alternative try using quinoa or buckwheat in place of the barley.
Ingredients:
Serves 2
1 brown onion
2 sticks of celery – cut in half lengthways and roughly chopped
2 carrots – peeled, cut in quarters lengthways and cut into large chunks
80g pearl barley
400g tinned of chopped tomatoes
700ml beef stock or bone broth
1 tbsp flour (optional)
1 bay leaf
400g stewing steak – diced
Method:
Place a saucepan over medium heat and place the 2 tbsp olive oil
Add the diced beef and the flour
Season with salt and pepper
Cook the beef until browned and then remove form the pan with a slotted spoon
Add in 2tbsp olive oil
Add the onions and celery and sweat for 10 minutes
Add the carrots and sweat for a further 5 minutes
Add the pearl barley and stir for 1 minute
Add the tinned tomatoes, bay leaf & stock and return the beef to the pan.
Stir the ingredients, bring to a boil, then simmer for 25 minutes or until pearl barley is cooked.
Remove from the heat and serve immediately!