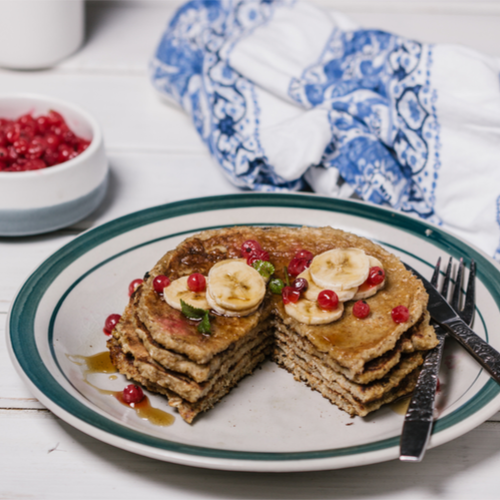 Best banana healthy pancakes
These healthy banana pancakes are so easy to make and so fluffy and tasty.  And there's no added sugar! 
Serves 2
Ingredients:
90g Oats (grind to flour in a good processor or use shop bought oat flour
60 ml Almond Milk
1 Banana (Mashed)
1tsp Cinnamon
Pinch Salt
½ tsp Baking Powder
2 Eggs (organic & free range)
Coconut Oil (for frying)
Toppings:
Nuts, Berries, Banana, Yogurt, Maple Syrup, Honey
Method:
Mix the dry ingredients together and wet the ingredients together in separate bowels.
Add wet to dry and mix well.
Leave to stand while you heat coconut oil in a non-stick pan over medium heat.
Add small ladle full of batter to pan and cook for couple of minutes on each side until slightly browned.
Add toppings of choice.