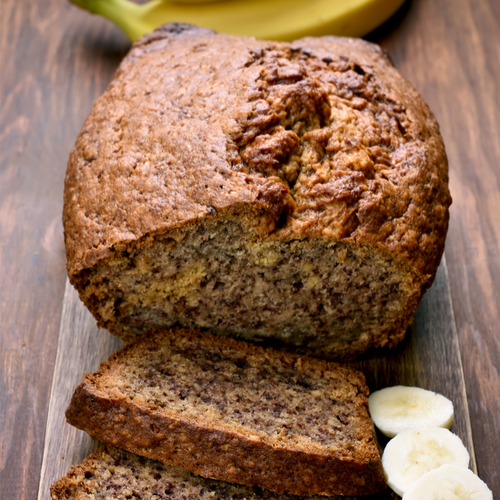 A great alternative to the sugar laden version, this is a new favourite spin on a classic recipe. Plant-based source of fiber, calcium, iron and essential fatty-acids given by buckwheat flour & walnuts. Marvelous, as a gluten & lactose free option! Cut in loaves and freeze for longer storage. A great and delicious alternative of bread. Toast whenever and enjoy.
Ingredients:
1 Cup Buckwheat Flour
2 Eggs
1/2 Cup of Chopped Walnuts
2 Tsp of Cinnamon
3 Large Bananas
2 Tsp Vanilla essence
3 Tbs Coconut Oil plus more for greasing tin
1/2 Tsp Baking powder
1/3 Cup of Nut milk
1/4 Tsp Sea Salt
Optional:
2-3 Tbsp real maple syrup. You don' t have to add this because the bananas are often sweet enough
Method:
Preheat the oven to 350°F/180°. Lightly grease two 8-by-4-inch loaf pans with coconut oil, and set aside.
Blend together ripe bananas, milk, maple syrup, eggs, melted coconut oil and vanilla in a large bowl until thoroughly combined.
In a another bowl, whisk together buckwheat flour, cinnamon, baking powder, baking soda, salt and walnuts if using.
Add dry ingredients to the wet ingredients, and blend well until combined. Divide batter and pour into each prepared loaf pan.
Sprinkle chopped pecans over each loaf if using.

Bake for 30 minutes or until a sharp knife inserted comes out clean.

Allow loaves to cool before slicing, or wrap each loaf and allow to sit for24 hours.

The result is moist and delicious, but waiting is the hardest part.