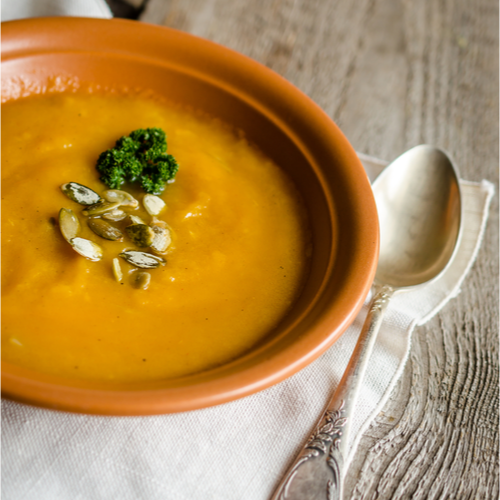 Butternut Squash & chilli soup (with pumpkin seeds)
Warming, sweet and spicy – this root vegetable soup is such a comforting bowel of goodness. Butternut squashes are rich in vit A and the added ginger packs a powerful anti-inflammatory punch. A great dish to serve to keep any possible colds at bay. Try sprinkling some pumpkin seeds on top for a flavoursome protein boost.
Ingredients:
Serves 4
1kg squash – such as crown prince or butternut squash
1 onion, finely chopped
3 garlic cloves, crushed
Thumb sized piece of ginger, finely chopped
2tbsps coconut oil
500ml vegetable stock
1tsp smoked paprika
½ fresh chilli, finely chopped
Salt and pepper
Handful of toasted pumpkin seeds
Method:
Preheat the oven to 200C.
Cut the squash into wedges and scoop out the seeds. P
ut the squash wedges into a roasting tray with a tablespoon of coconut oil and season with a pinch of salt and pepper.
Roast for 40 minutes, or until soft.
Meanwhile, fry the chopped onion, garlic and ginger in the rest of the coconut oil until soft.
Add the smoked paprika and fresh chilli and fry for a further minute, before removing the pan from the heat.
When the squash is ready, scrape the flesh away from the skin and add it to the fried ingredients.
Pour about 400ml stock into the plan and use a hand blitzer to blend it all together to a thick, creamy puree.
Check the seasoning, and add more salt and pepper to taste, and more stock, until you reach the consistency you like
Serve in warm bowls, topped with toasted pumpkin seeds and extra chilli if you like it hot.