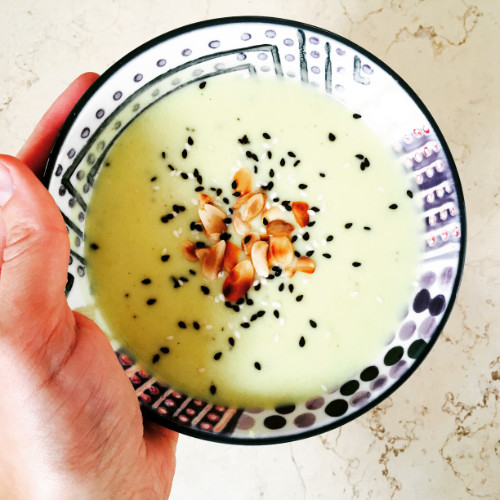 Cauliflower, Turmeric & Almond Soup
Not only does this soup contain healthy fats, in the form of the ground almonds, which also help to thicken the soup, but it also contains turmeric, which is known for its anti-inflammatory benefits.
Ingredients:
Serves 2-3
1 head of cauliflower cut into florets (use the stalks too by cutting them up into small cubes
2 tsp ground turmeric
1 brown onion
1 litre vegetable stock or chicken stock
50g ground almonds
salt & pepper
Method:
Peel and roughly dice the brown onion.
Place a saucepan onto low heat and add the olive oil.
Place the onions in the pan and sweat for 10 minutes, ensuring that they don't colour.
Add the chopped cauliflower and turmeric and sweat for another 4 – 5 minutes.
Add the stock, and bring to the boil, then simmer for 20 minutes or until cauliflower is soft.
Remove from heat & blend.
Add the ground almonds and blend again.
Season with salt and pepper to taste.
I topped mine with toasted almonds & sesame seeds