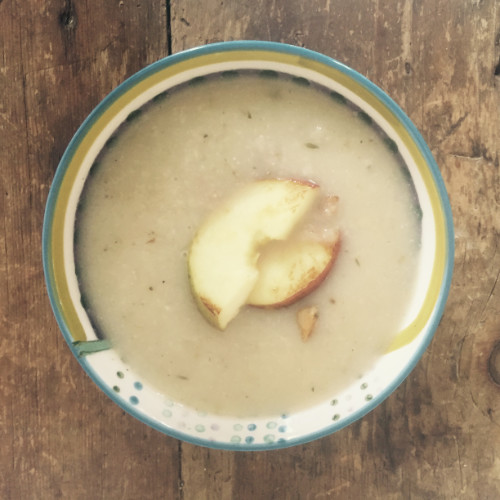 Two popular autumn vegetables make for an earthy but sweet soup. 
Apples are a good source of a substance called quercetin which plays three fantastic roles in the body. First, it has antioxidant benefits, read more about them at
Smoothie saviours
, to understand its beneficial health effect. 
Second, it has anti-inflammatory effect, most used for bloating.
Third, it has the benefit of blocking a substance called histamine, involved in food allergies.
Find it also in green tea, grapes, green leafy vegetables, mango & oats. 
Round of applause for quercetin!  
Ingredients:
Serves 2
2 tbsp olive oil
1 brown onion
2 tsp fresh thyme leaves
1 celeriac – peeled and cut into cubes
4 x apples (I used braeburn) cored and sliced
1 litre vegetable stock
salt & pepper
Method:
Peel and roughly chop the onion.
In a saucepan, add the olive oil and heat over a low heat
Add the onion and sweat for 10 minutes
Add the chopped celeriac and the apples – sweat for another 4 – 5minutes
Add the vegetable stock
Bring to the boil, then simmer for 25 – 30 minutes, or until celeriac is cooked
Remove from the heat & blend.
Add 100ml of milk (of your choice) to make a creamier, thinner consistency.
Season to taste with salt and pepper to taste.
Top with toasted walnuts