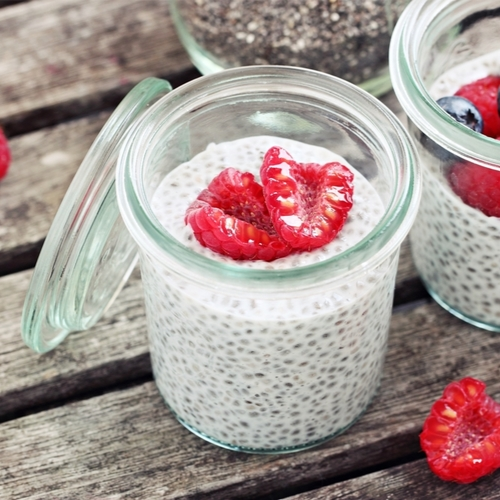 These delicious chia berry pots are easy to prepare and leave ready the night before, which makes them a hit with busy people.
When chia seeds come in contact with a liquid, in this case milk, they produce a transparent gel around the seed. The texture is a bit like a jelly. Chia seeds are an excellent source of omega 3 fats and protein.

Ingredients:
Serves 1
200ml of nut milk (almond or hazelnut – unsweetened), or if you prefer you can use coconut milk
1/2 fresh vanilla pod
2 tbsp chia seeds
3 tbsp unsweetened desiccated coconut
100g approximately of berries of your choice – blueberries and raspberries work well
1 tbsp toasted nuts
Method:
In a bowl mix the chia, coconut and chia seeds.
Cut open the vanilla pod and scrape out the seeds into the bowl.
Add the nut or coconut milk and mix together.
Pour into a nice drinking glass or glass jug or jar which makes it look more attractive and fun to eat!
Refrigerate for at least three hours, ideally overnight to make sure it has set.
Tip: This is a super easy recipe which you can adapt very easily to suit your taste. If you don't like coconut swap it for a tablespoon of maple syrup to add sweetness. Vary the fruit topping, slices of banana, mango, kiwi, strawberrries also work very well. Leave out the nuts and sprinkle over some seeds or some homemade granola to add a bit of crunch.