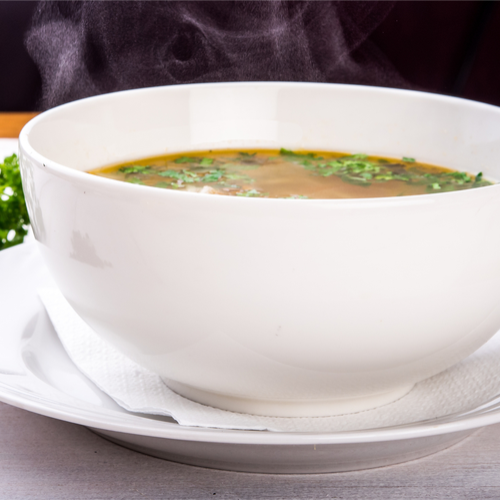 There is no better pick me up than chicken soup, particularly if you've been ill.  Packed with immune supporting minerals especially when made from bone broth, this soup will really help you get back on your feet.
Ingredients:
1 tbsp coconut oil
½ onion, diced
1 garlic clove, crushed
½ tbsp lemon juice
Sea Salt
Ground Black Pepper
1 bay leaf
1 celery stick, finely chopped
2 sprigs of flat parsley, finely chop leaves & stalks.
1 large carrot, peeled and diced
1 large handful of cooked shredded roast chicken
2 handfuls of kale or any cabbage chopped finely
600ml of chicken stock – homemade chicken broth would be even better
(See recipe for Miso soup with bone broth)
Method:
Heat the coconut oil over a medium heat in a large pan, add the onion and fry until softened.
Add the celery and garlic and cook for a further two minutes.
Then add the carrots and the parsley (including the chopped stalks) and bay leaf.
Add the stock/broth and bring to a boil, then turn down to simmer until the vegetables are soft (about 20 minutes)
Add in the kale or cabbage and the chicken.
Cook for a further 5-10 minutes.
Season and add the lemon juice.