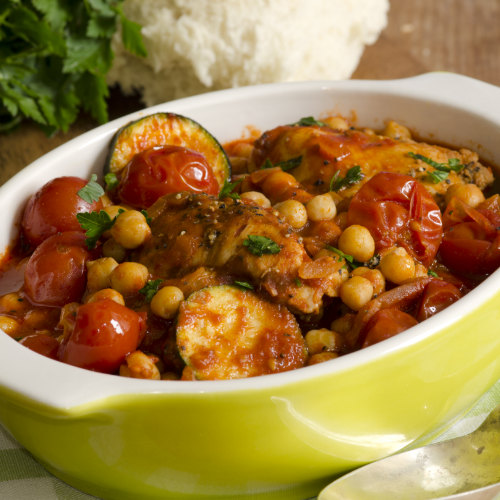 Chicken tagine with cauliflower couscous
A well-seasoned, spicy, appetizing dish. Try swapping your regular white rice for some homemade cauliflower rice. It's a great way to include another vegetable into your diet. Furthermore, it makes for a lighter, easier to digest meal.
Ingredients:
Serves 2
X2 chicken pieces (mixture of thighs & breasts)
X1-2 tbsp coconut oil
X1 large aubergine, washed & diced into small pieces
450g or 1lb fresh tomatoes, chopped
X1 small onion, diced
30g dried organic apricots, chopped
X1 red chilli, de-seeded and chopped finely
X1 tbsp tomato puree
X2 tsp cumin, ground
X1 tsp cinnamon
100ml chicken stock
200g of tinned chick peas
1 bay leaf
Handful fresh coriander, chopped
Cauliflower couscous
½ head cauliflower
1 tablespoon olive oil or butter
Salt
Method:
Preheat the slow cooker.
Heat 1 tbsp of coconut oil in a large pan over a medium/high heat. Season & cook the chicken until it's golden. Then remove and set it aside.
Sprinkle the cinnamon over the cut aubergine and add to the casserole pan, if necessary add some more coconut oil.
Cook for approximately 10-15 minutes or until golden and slightly softened.
Then add in the chillies, bay leaf and other spices and cook for a further 10 minutes.
Transfer everything including the chicken to the slow cooker.
Add in the stock, tomatoes, chickpeas, apricots and tomato puree.
Cover and cook on either high for 3-4 hours or low for 6-8 hours.
Serve with cauliflower couscous and sprinkle over the fresh coriander. Add a side of steamed green beans.
To make the cauliflower couscous:
Cut the cauliflower into florets (discarding the inner core and leaves).
Pulse the cauliflower in a food processor using short pulses until it is the size of couscous. (You can grate, if you don't have a food processor, though this will take longer).
You can either serve it raw, mixed with a tablespoon of olive oil and seasoned or you can cook it, by heating a tablespoon of olive oil in a frying pan and cooking it for about five minutes.
Season