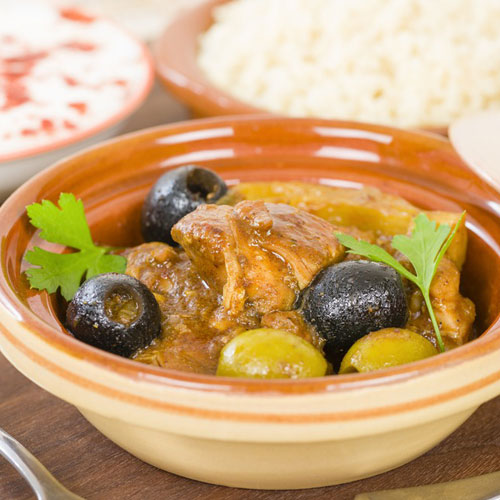 Chicken with olives and peppers
A scrumptious, flavoursome, protein rich meal. Moroccan flavours go perfectly with chicken.
Ingredients:
Serves 2
2 chicken pieces with their skin on (thighs, legs or breast)
1 400g tin of chopped tomatoes
2 red peppers, de-seeded and chopped lengthwise
1 garlic clove, finely chopped
50g of pitted green/black olives (either a mix of both or whichever you prefer)
2 onions, finely chopped
1 tsp ground cumin
1 tsp ground coriander
60ml ( 2 fl oz) olive oil
½ lemon juice, squeezed.
Method:
Pre-heat the slow cooker.
Cook the onions with a tablespoon of olive in, in a frying pan until golden, add the garlic, coriander and cumin, season, stir and cook for a further two minutes. Remove and set aside.
Add the chicken to the pan with a tablespoon of olive oil if needed, and brown the chicken.
Once browned add the chicken in the slow cooker with the seasoned onions, peppers, tomatoes, olives and lemon juice.
Cover and cook on low for 6-8hrs or high 3-4 hrs.
Serve with celeriac mash (see recipe below), peas and broad beans.
Celeriac mash
Slice ½ celeriac into 1" cubes (don't use the very bottom of the celeriac).
Cook in a pan over a high heat, with 2 tablespoons of olive oil, season and add 1 clove of crushed garlic and a teaspoon of dried thyme (or fresh if you have it).
Fry for about five minutes.
Turn the heat down to low and add two tablespoons of water and simmer for about 15-20 minutes until it's tender. Add more water if necessary (don't let it go dry or burn). Once soft, mash and serve.