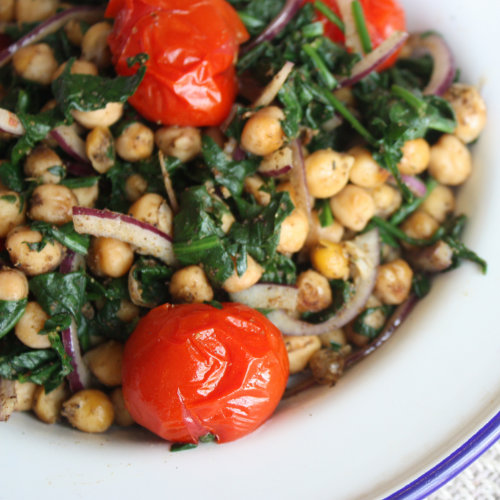 Chickpeas, tomatoes & spinach
Satisfying and tasty. This salad is brimming full of wholesome goodness. The spinach is high in iron and folate whilst the tomatoes are high in vitamin c which aids the absorption of iron. In addition, the chickpeas are a super nourishing source of protein and fibre.
Ingredients:
Serves 2
200g chickpeas (tinned)
150g (5 oz) spinach
1 small garlic clove (crushed)
Sea salt
Ground black pepper
6 tomatoes on the vine
Olive oil
½ small red onion, peeled and sliced into thin rings.
1 tsp ground cumin
1 tsp allspice
.
Method:
Preheat the oven to 200C/gas 6.
Place the tomatoes in a roasting tray and make a small incision in each tomato. Drizzle the olive oil over the tomatoes & lightly season.
Roast for around 20 minutes, until the tomatoes have softened.
Toss the drained chickpeas in the cumin and allspice.
Heat a tablespoon of olive oil in a frying pan and over a low heat, fry them gently for 2-3 minutes, moving them so they don't stick together.
Keep warm.
When the tomatoes are nearly cooked.
Start to prepare the other ingredients.
Cook the spinach in boiling water for one minute and drain well and squeeze out any moisture.
Chop it finely and season.
Add the chickpeas to the onions, garlic and tomatoes (taken off the vine) once cooked into a bowl and drizzle with olive oil and serve.