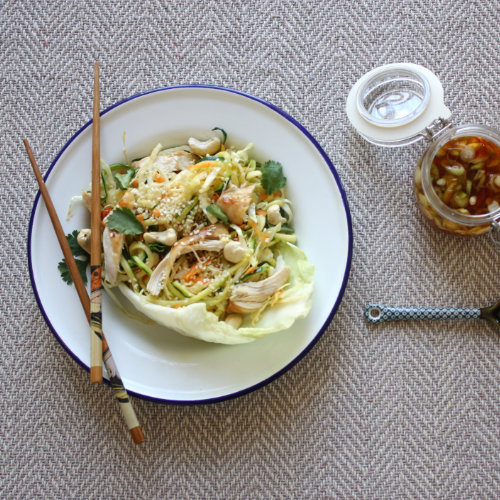 Courgetti chicken noodles
I love the simplicity of this dish and the way it reminds me of my time living in Thailand. By swapping the noodles to courgetti, you are gaining another vegetable, more fibre and vitamins & minerals. The dressing has a nice kick!
Ingredients:
Serves 2
X2 chicken breasts
X3 courgettes
X1 large carrots, grated
1 handfuls fresh coriander, chopped
150g chinese cabbage, washed and shredded finely.
1 tbsps sesame seeds
X1 tbp olive oil
Sea salt & ground black pepper
1 tbsp cashew nuts (optional)
Dressing:
2 tablespoons lime juice
2 tablespoons of fish sauce
2 red chillies, de-seeded and chopped into thin rings
2 cloves garlic, crushed
2 tablespoons sesame oil
1tbp coconut palm sugar (or honey)
4 spring onions, chopped
1" ginger, grated
Method:
Pre-heat the oven to 180 degrees / gas mark 6 and bake the chicken breasts in an oven proof dish for 25-30 minutes (until cooked through).
Meanwhile spiralise your courgettes (or use a julienne peeler) to make the noodles.
Heat the olive oil in a large frying pan and add the courgette.
Cook for a couple of minutes, tossing them regularly.
Season with salt & pepper, They should be softened, but still have bite.
Make the dressing, by adding the sesame oil, fish sauce, into a pan to warm, add the other ingredients, stir and warm through for a couple of minutes.
Once the chicken is cooked, cut it into small bite size pieces.
Put the courgetti into a large bowl, add in the cabbage & carrot and mix.
Add in the chicken.
Drizzle over and mix in the dressing and sprinkle over and the sesame seeds.
Scatter over the chopped coriander and cashew nuts to serve.