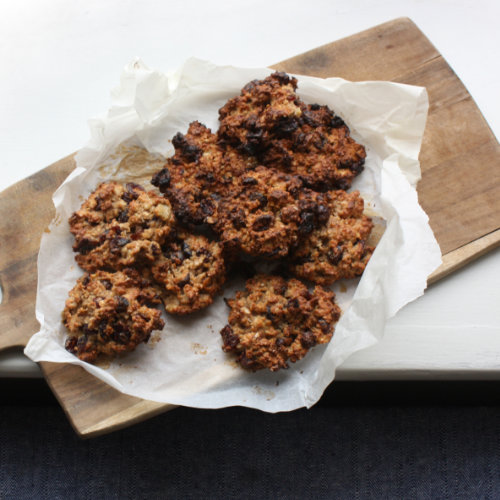 These delicious cookies are so easy to make, even with little people 'helping'! They make a very handy snack for blood sugar control, and provide a creative, alternative way to consume super nutritious quinoa.
Ingredients:
Makes approx. 6
1 egg
½ cup almond butter
1 medium banana, mashed
2 tablespoons maple syrup
½ cup rolled oats
½ cup quinoa flakes
1 tsp baking powder
1 tsp cinnamon
¼ tsp sea salt
1 tsp vanilla essence
⅓ cup cranberries
Method:
Preheat the oven to 180 degrees C or 350F.
Line a baking tray with greaseproof paper.
Mix together in a large bowl the egg, almond butter, vanilla essence and maple syrup until smooth.
Then add the oats, quinoa flakes, cinnamon, cranberries & salt.
Using 1-2 tablespoons of the mixture per cookie, spoon it out onto the baking tray into rough circles, until all the mixture is used up.
Put it in the fridge for about 30 minutes to chill and then the cookies shouldn't spread when they are cooking.
Bake for approximately 12 minutes, or until slightly golden.
You will need to keep an eye on them! Let them cool slightly before removing from the tray so they don't break.