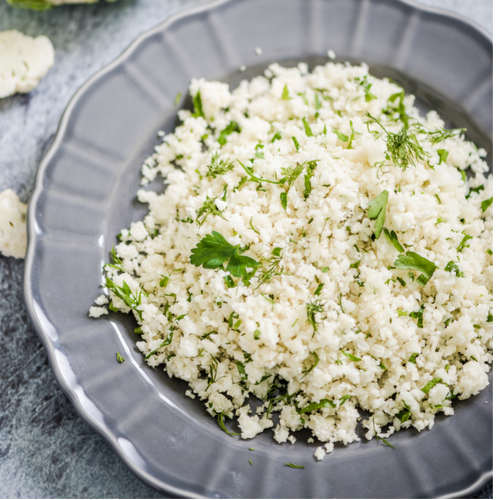 Kale and cauliflower couscous with baked salmon
A tasty way to boost nutrient stores, balance your hormones, and increase your fertilty through food. Salmon provides omega 3 fats which helps reduce inflammation and the kale is on of the most nutrient dense foods around.The kale provides folate and vitamin C, vitamin K, vitamin A, amongst many other minerals and vitamins. Vitamin A help support the immune system development, retinol development and healthy skin. Cauliflower is a great source of vitamin C for immunity.
Ingredients:
Serves 2
½ head of cauliflower (no stalks or leaves)
Handful of chopped kale finely chopped
1 lemon, half juiced, half sliced
½ garlic clove, minced
Small handful fresh coriander, chopped
1 tsp cumin seeds
Sea salt
2 salmon fillets
Chopped parsley
Method:
Preheat the oven to 190C. Take 2 large sheets of foil and place on top of each other in a roasting tin. Spread the oil on the foil and place the salmon on top.
Put the parsley, lemon slices and bay leaves into the body cavity. Fold the edges of the foil together. Bake the fish for 15-18 minutes
Meanwhile, blend the cauliflower in a food processor until the cauliflower looks like couscous. Cook the cauliflower in boiling water for a few minutes, until cooked.
Drain. Add the kale, coriander, cumin seeds, garlic, salt and lemon juice. Mix together and serve.