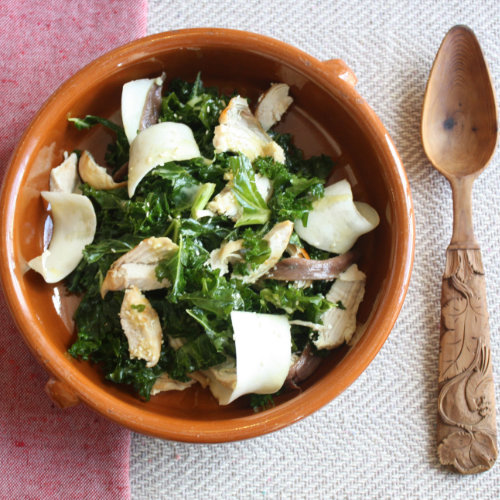 Kale & chicken caesar salad
This is an amazing main meal that is also impressive enough to serve for a dinner party.  The bitter flavoured greens are perfectly combined with the creamy, satiating dressing over the protein dense chicken.  Kale is packed full of minerals and a rich source of vitamin k which is essential for building healthy bones.
Ingredients:
Serves 2
200g (7oz) kale, shredded, with stems cut out.
100g (2 ½ oz) spring greens, shredded and no stems
6 anchovies
200g (7oz) cooked chicken, cut into thin strips
2 tbsps parmesan shavings
Dressing:
2 tbsp olive oil
2 tsps tahini
1 tbsp lemon juice
1 tsp tamari
1 clove garlic, crushed
Pinch sea salt
Pinch of chilli powder
Method:
Whisk all the ingredients together.
Mix the kale spring greens in a bowl with the chicken and drizzle over the dressing.
Sprinkle over the parmesan dressings and place the anchovies on top.