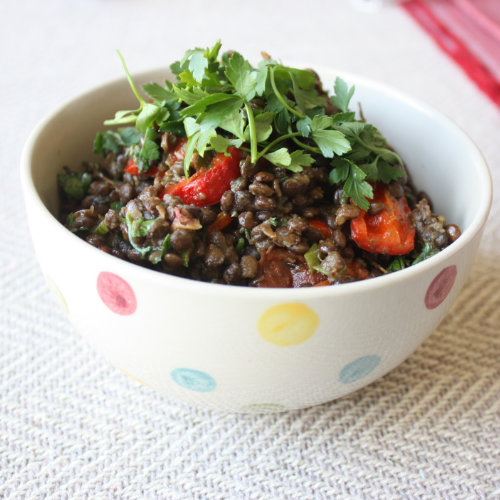 Lentils are a great source of iron & folate. Iron is needed for a healthy blood supply and oxygen circulation to you and the baby. Not enough iron can lead to anaemia making you feel tired. Brown rice, is a good source of magnesium. Magnesium helps build strong teeth and bones in babies and helps with good muscle contractions in babies as well as reducing nausea and the risk of pre-eclampsia.
Ingredients:
Serves 2
90g or (3 oz) red lentils
½ onion, diced
300ml (½ pint) vegetable stock
200g of tinned tomatoes
2 garlic cloves, finely chopped
½ red chilli de-seeded and finely chopped
½ tsp turmeric
½ tsp cumin
½ tsp garam masala
½ tsp coriander
1" fresh ginger, peeled and grated
1 tbsp olive oil
Small handful fresh coriander leaves
½ lemon, juiced
Sea salt
Ground black pepper
1 bay leaf
120g short grain brown rice
Method:
1. Start by measuring your rice in a measuring jug or cup. Note where the rice comes up to so that you can work out how much water to add later (you will want double the amount water to rice), then soak your rice in water and set aside.
2. Preheat the slow cooker. Heat the olive oil in a large pan over a medium heat and cook the onion until it's softened with a pinch of salt (about 3-4 minutes). Add in the garlic, chilli, ginger and cook, stirring for another few minutes. Add in the cumin, turmeric, coriander and garam masala and cook for a further 2-3 minutes. Rinse the lentils well and add the lentils and mix well. Add in the tomatoes, stir and then transfer to the slow cooker. Add the stock and the bay leaf. Put on the lid and cook on low for 8 hours or high for 4 hours.
3. 40 minutes before serving, drain your rice and put in a pan with a tight fitting lid (glass if possible, so that you can see what's going on). Add double the amount of water to the dry rice you measured earlier. Bring to the boil and turn down to simmer, but do not take the lid off at any point or you'll loose the steam. The rice should be cooked when all the water has been soaked up by the rice (about 25 minutes), check it's soft and then leave to sit without the heat on, but leaving the lid on for another 10 minutes.
4. Add the lemon juice to your dhal and season. Dress with the coriander before serving with the rice.