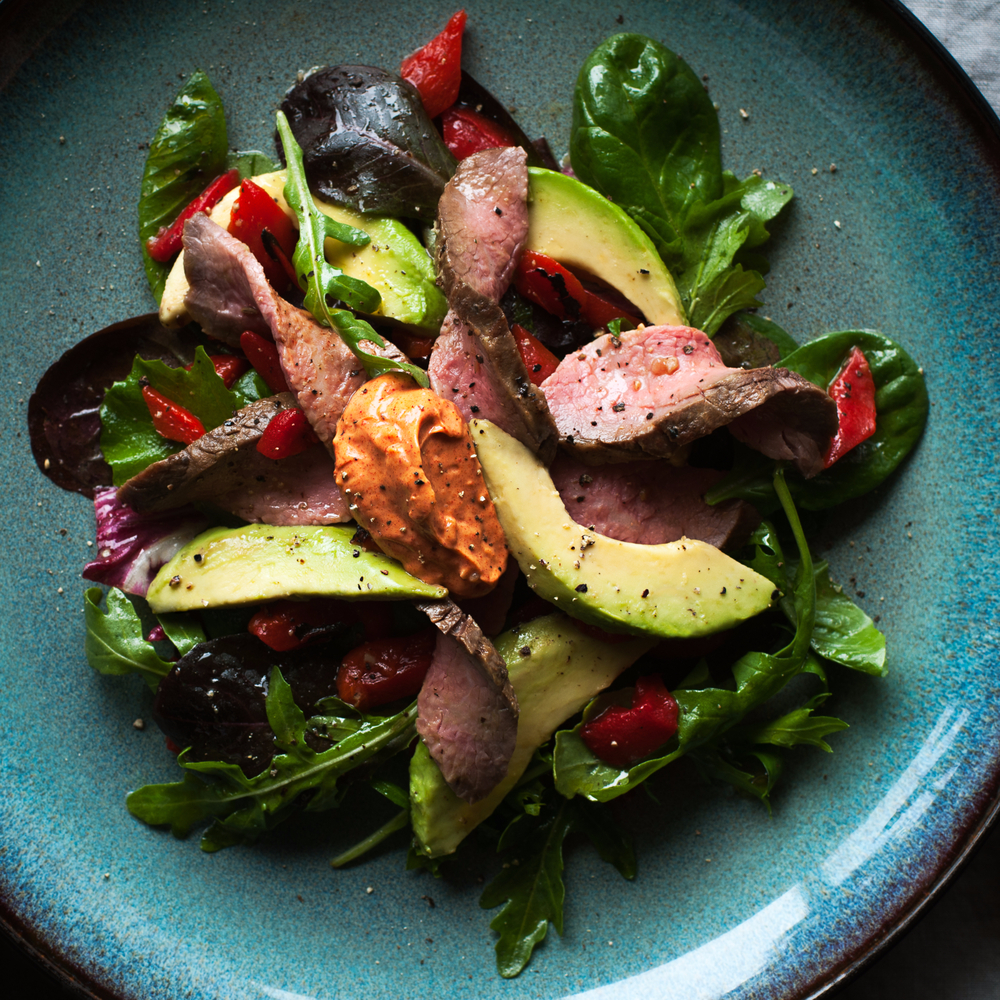 Mixed green salad with steak and paprika aioli
This hearty beef salad is on my list of favourite dishes to make from a weekend lunch to a dinner party. I love the flavours in this recipe, as tender beef, red pepper and rocket work so well with the creamy avocado. This salad also is an excellent source of protein and iron if you are feeling low energy or feeling the slump.
Ingredients For The Salad:
Serves 2
2 rib eye steaks
1 tsp coconut oil
100g of mixed ( & washed)  baby spinach, rocket & watercress
Sea Salt
Ground black pepper
1 red onion, cut into chunky lengths
Handful of cashew nuts (optional)
Ingredients for the paprika aioli (makes 1 cup):
1 large egg yolk
1/2 tsp salt
juice of 1 large lemon – add little by little to taste
1/8 tsp smoked paprika
2 cloves garlic, minced
1/2 tsp wet mustard, whole grain or smooth
freshly ground black pepper
1 small cup of olive oil.
Method:
Start by making the aioli – see below
Heat the coconut oil in a frying pan over a medium heat
Once hot add the onion and fry until softened.
Meanwhile place the green leaves on a plate.
When the onion is done, take out and set aside.
In the same pan, turn up the heat and add a little more coconut oil if required.
Once melted, sear the steaks for a few minutes on each side and season.
Toss in the cashew nuts if using and leave to brown and slightly crisp for a few minutes.
Cook to your required preference (ie rare/medium/well done).
Once done, slice the steaks finely and lay over the salad, adding the nuts and onion, mixing together.
Add a dollop of the aioli on top of the salad to serve.
Aioli:
Whisk together the egg yolk and mustard in a bowl.
Very slowly add the oil, mixing as you go as it thickens
Add the lemon juice slowly ( just add half to start with). The mixture should leave trails when you put a spoon into it.
Add the garlic, seasoning and paprika.
Taste and add the rest of the lemon juice if required.