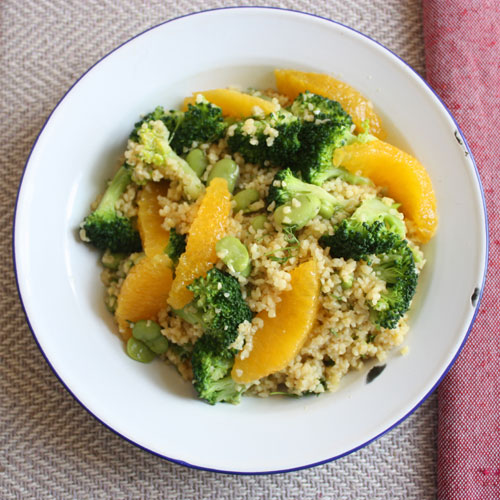 Orangey bulgar wheat salad with baked chicken
Bulgar wheat is easy to cook and provides a nice texture and slightly nutty taste to this salad as well as being high in minerals and protein.
Ingredients:
Serves 2
100g/3 ½ ounces of bulgar wheat
X2 chicken breasts (optional)
X4 broccoli spears
100g (3 ½ ounces) of shelled & cooked broad beans
X1 orange
½ bunch of dill, chopped
400ml of vegetable stock
Dressing:
1 large orange juiced
1 tbsp balsamic vinegar
1 tsp honey
1 tsp Dijon mustard
Method:
Pre-heat the oven to 200 degrees or gas mark 6.
Season the chicken and when the oven is hot, cook the chicken breast for about 20 minutes or until cooked through.
Meanwhile, place the bulgur wheat in a bowl and cover with the hot stock.
Cover and stand for 15 minutes until tender.
Drain in a sieve, and gently squeeze out the excess liquid.
While this is cooking you can steam your broccoli & broad beans until tender.
The broad beans may need a little longer than the broccoli as need to be cooked through.
Segment the oranges.
Mix the vegetables, dill and orange into the bulgar wheat.
Prepare the dressing by mixing the ingredients together and mix into the salad.