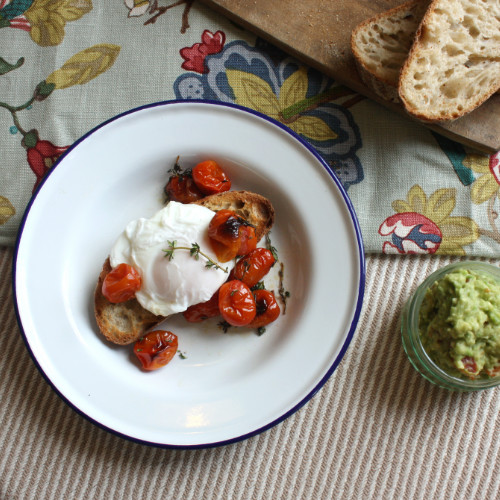 Poached eggs with roasted thyme tomatoes
Thyme is a great salt substitute, it will give flavour and aroma to tomatoes without needing addition of salt. This is particularly useful for those with high blood pressure, or other conditions that require low sodium diets. You could also try rosemary, sage, basil, oregano, parsley.
Ingredients:
Serves 2
4 eggs
Cherry tomatoes (on vine)
Few sprigs fresh thyme
2 Tbsp vinegar
4 slices sourdough toast
Method:
Heat oven to 160C/140C fan/gas 3.
Place cherry tomato vine on a baking dish, drizzle with olive oil, cracked pepper and add thyme.
Roast for 40-50mins until soft.
When tomatoes are nearly ready, bring water to a gentle simmer in saucepan, add vinegar.
Gently crack eggs into simmering water.
After 3-4 minutes remove eggs from water with a slotted spoon, drain excess liquid.
Place eggs on toast and add roasted thyme tomatoes to the side.
Top with extra cracked pepper.