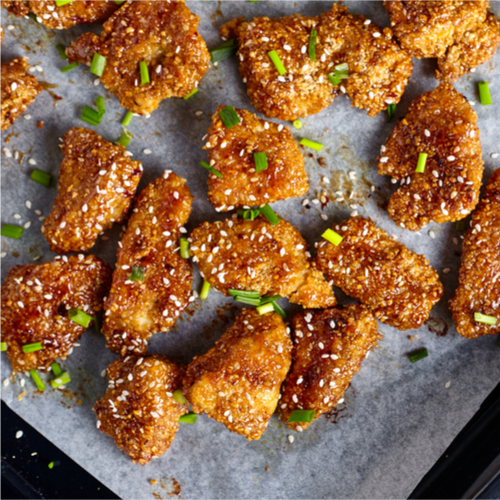 Wondering what to feed the kids for supper, which is healthy and quick?  Try out this alternative to the normal chicken nuggets.  Quinoa is high in protein, fibre, iron, magnesium, B vitamins and more.  Swap the flour for a gluten free version such as almond flour if preferred.
Ingredients:
100g pre-cooked quinoa
2 tbsp flour
1 large egg
Sea salt
Ground black pepper
2 chicken breasts
1-2 tbsp olive oil
Sesame seeds
1 spring onion, chopped finely
Method:
Whisk the egg and season.
Cut the chicken into bite size pieces and toss into seasoned flour.
Dip the chicken into the egg mixture and then into the quinoa, pressing it down so it's coated.
Once all the pieces are coated, place them on another baking tray , drizzle with olive oil and cook for approximately 15 minutes at 190 degrees, until the chicken is cooked through.
Sprinkle with sesame seeds and chopped spring onions.
Serve with parsnip chips, peas and carrots.