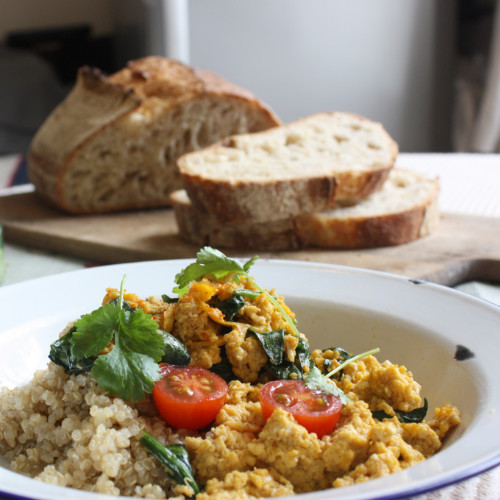 Quinoa spinach & scrambled eggs
Ingredients:
Serves 2
½ cup quinoa
1 cup water
200g spinach
6 eggs
Dash nut milk
Salt and pepper
Method:
Quinoa
Rinse quinoa in a fine mesh sieve to remove bitterness from grain.
Combine quinoa and water in a saucepan and bring to the boil.
Reduce to a medium heat and simmer.
Cook until quinoa has absorbed all the water (about 10mins).
Remove pot from heat and cover with lid.
Allow to steam for 5 minutes.
Remove lid and fluff with a fork.
Eggs & Spinach
Whisk together eggs and milk in a small bowl.
Heat small fry pan or saucepan on stove top and add a small amount of olive oil.
Add eggs to pan, mix as the eggs are cooking to scramble.
To wilt spinach, add to a small saucepan with a dash of water.
Cook over heat, stirring often.
Assemble on toast with quinoa.