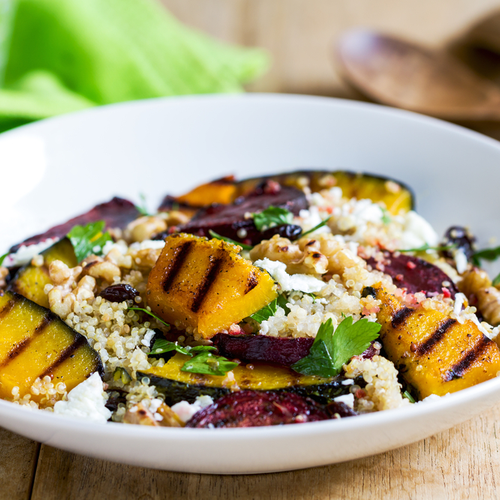 Quinoa with grilled pumpkin and beetroot salad
The combination of this great, nutty flavoured grain, alongside the sweet, earthy root vegetables, makes for a super tasty meal. Beetroots are a great blood builder and have been linked to improved cardiovascular health; they are packed full of iron and other essential minerals.
Ingredients:
Serves 2
3  beetroot, trimmed, scrubbed
4 tbsps extra virgin olive oil
250g pumpkin, peeled, cut into 3cm pieces (optional)
½ tablespoon thyme leaves
150g quinoa
50g baby spinach leaves
1 orange, juiced.
½ tablespoon honey or maple syrup
½ teaspoon wholegrain mustard
2 tbsp flat-leaf parsley leaves, chopped
Handful walnuts, toasted & chopped
Method:
Preheat oven to 200C.  On a baking tray add the baby beetroot and pumpkin, season and drizzle with olive oil.   Sprinkle the pumpkin with thyme.  Bake for around 30 minutes or until softened.  Once cool, peel off the skin of the beetroot and chop into small pieces.   Once the pumpkin is soft, heat a grill pan and grill the pumpkin for about one minute on either side so they have blackened griddle lines, remove and set aside.
Cook the quinoa as per the instructions on the packet and leave to cool.
Make the dressing by combining the maple syrup (or honey), mustard, orange juice and remaining olive oil (add more oil if required) and mix together.
Peel and cut into small segments the beetroot and mix together with the pumpkin, quinoa, walnuts and parsley and drizzle over the dressing.