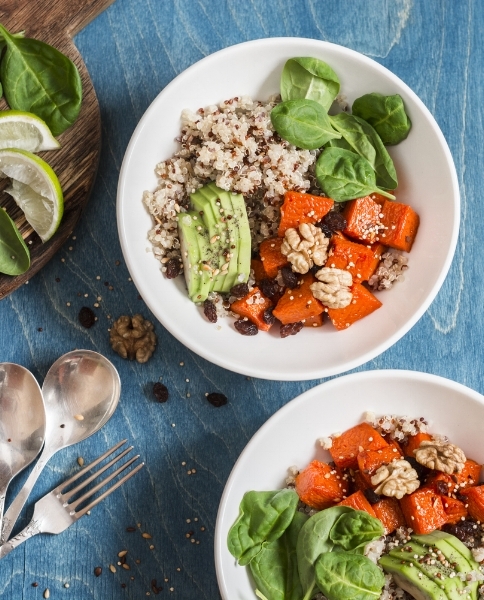 Quinoa with squash, spinach & avocado
I often get asked for quick and easy lunch recipes to make for the week. Quinoa bowls are great exactly for those instances. I like to vary the toppings each time, but this squash, spinach and avocado is one of my favourite combinations during colder months. Sprinkle some seeds for extra energy
Ingredients:
Serves 2
250g of butternut squash, peeled and chopped into small pieces
1 small avocado
2 handfuls of baby spinach leaves
3 tbsp olive oil
250g quinoa, cooked
2 spring onions, finely chopped
Handful of pistachios, chopped and roasted*
Sea Salt
Ground black pepper
* placed on a baking tray and roast at 200C for about 6-8 minutes or until slightly golden.
Dressing:
1 ½ tbs lemon juice
1 tbsp water
1 tbsp tahini
½ garlic clove, minced
Pinch salt
Pinch cayenne pepper
Method:
Pre-heat the oven to 200C or 180C (Fan).
Put the squash on a lined baking tray season and drizzle with olive oil .
Roast for 30 minutes.
Make the dressing by whisking the lemon juice, water, tahini, garlic, salt and cayenne together.
Put the cooked quinoa into a large bowl, add the spring onions, spinach and pistachios and the squash once cooked.
Mix well.
Slice the avocado and all as well.
Drizzle over the dressing and serve.