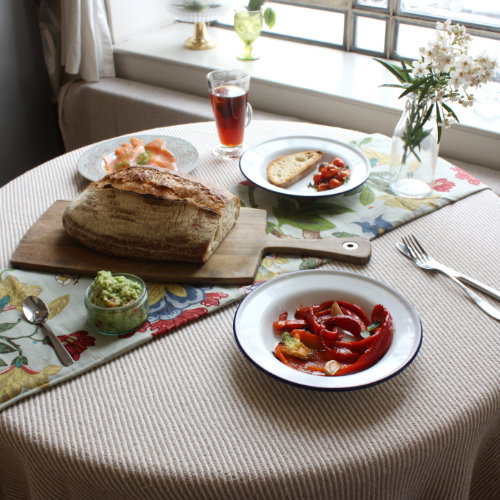 Scrambled eggs with roasted peppers
Roasted peppers and scrambled eggs are a match made in heaven. If you don't have time to cook the peppers from scratch, you can use any left over vegetables from the night before. Personally, I will happily make time on the weekend for juicy freshly roasted peppers.
Ingredients:
Serves 1
3 eggs
Small amount of nut milk
Salt pepper
Chives
1 red pepper
Olive oil
Method:
To roast peppers:
Preheat oven to 260 degrees, or gas mark 9.
Chop the peppers into quarters and discard seeds.
Roast peppers for approximately 15mins, until skin blisters and turns black.
Remove from oven, and cover.
Skins should remove easily one cooled.
Whisk together eggs, milk and chives in a small bowl.
Heat small fry pan or saucepan on stove top and add a small amount of olive oil.
Add eggs to pan, mix as the eggs are cooking to scramble.
Remove cooked eggs from pan and assemble on toast with roast peppers on the side.