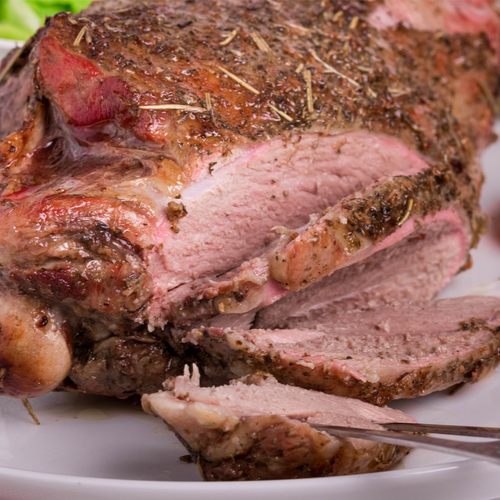 Slow cooked roast lamb, with roasted squash and parsnip chips
A slow roast of Lamb makes for the perfect Sunday lunch. Often, compared to Beef, most Lamb is pasture fed, which means it is easier to find and buy higher quality meat. Lamb is a rich source of vitamins A, B3, B6 and B12 and has a strong mineral content that includes Iron, Zinc and Copper. This tender red meat has a delicious taste, and falls off the bone perfectly when slow cooked; amazing served with the meat juices and plenty of vegetables to ease your digestion. .
Ingredients:
Serves 4-5
700g boneless lamb shoulder joint
300ml of lamb stock
100ml of white wine
3 whole garlic cloves, peeled
2 carrots, peeled and sliced into rings.
Few sprigs of rosemary
Sea salt
1 tablespoon of coconut oil
Squash:
1 small squash
2 tbsps, Olive oil
Parsnip chips:
250g parsnips, peeled and chopped lengthways into approx size of chips.
Coconut oil.
Sea salt.
Method:
Pre-heat the slow cooker.
Heat the coconut oil in a large pan on the stove over a high heat, season the lamb and rub it all over with one of the garlic cloves,
add to the pan and brown it on all sides.
Put the chopped carrots into the bottom of the slow cooker then add the lamb.
Add the stock, wine and rest of the garlic and rosemary.
Season.
Cook on a low setting for 8 hours.
Approximately 45 minutes before the lamb is ready pre-heat the oven to 200 degrees/ gas mark 6.
Wash the squash, half it lengthwise and cut into moon shape pieces. Place on a roasting tray, season and drizzle over olive oil. Cook for around 45 minutes, or until soft.
After about 10-15 minutes, add the parsnips onto the pan, season and drizzle with olive oil and roast until browned. You will need to turn them a few times to make sure all get roasted.
Serve with a side of greens.