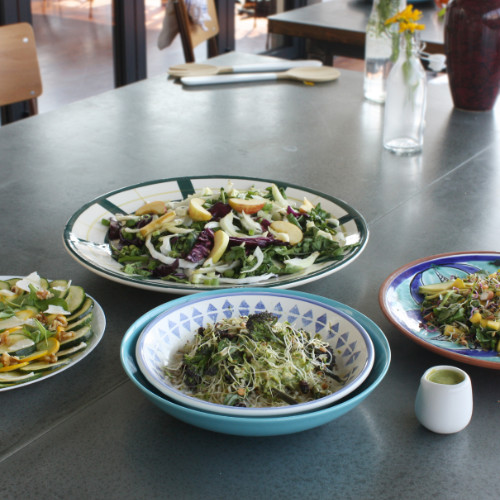 Spinach, bean and hazelnut salad
Hazelnuts are high in magnesium, calcium and vitamins B&E. They are also a good source of oleic acid which can help to lower levels of bad cholesterol (LDL) and can raise levels of good cholesterol (HDL) in the body.
Ingredients:
Serves 2
1

tbsp

butter

/

olive

oil

100

g

leeks

halved

lengthways

/

then

widthways

240

g

cooked

borlotti

beans

1

tsp

tamari

Juice

of

1

lemon

50

g

raw

hazelnuts

40

g

mixed

spinach

and

watercress

leaf

salad

30

g

halved

radishes

Pinch

of

sea

salt
Method:
1. In a pan sauté the leeks in butter/olive oil for about 30 minutes until soft and starting to go brown round the edges. Afterwards, transfer to a plate and set aside.
2. Combine the beans and tamari into an empty pan and return to the heat. Next the lemon juice, and allow to warm through, about 1-2 minutes, and then add the hazelnuts.
3. To serve, arrange the leaves and chopped radishes on two plates and spoon the bean mixture over. After, place the leeks on top.
4. Drizzle with olive oil and more lemon juice if desired. Grate the lemon zest on top and sprinkle on the sprouts and flax seeds.