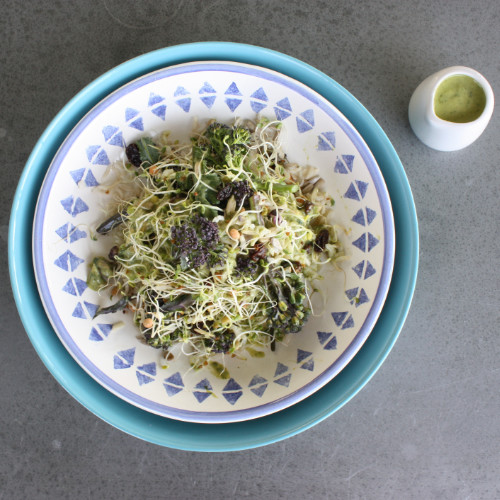 Sprouted rice and broccoli salad with avocado & basil dressing
Sprouting beans are rich in enzymes, which support digestion by helping to break food down effectively. The sprouting process releases nutrients, particularly B vitamins, from the rice, which makes them easier for us to absorb and use. This salad is also a great source of fibre, which may aid digestion further by bulking up the stools. 
Ingredients:
Serves 1
Dressing:
1/2 medium avocado
juice of 1/2 orange
juice of 1/2 lemon
1 tbsp apple cider vinegar
2 tsp maple syrup
½ small chilli, seeds removed (optional)
1 small bunch basil leaves
salt and pepper
3 tbsp olive oil
Salad:
1/4 head of broccoli
50g wild rice, soaked, sprouted and drained (as above)
30g raisins
30g sunflower seeds
salt and pepper
Small bunch chives, finely chopped
Method:
Start to sprout the rice 2 days before. Soak 50g of wild rice overnight, drain in the morning and leave in a jar. Make sure you drain and rinse them every 12hours or so. You will start to see a little tail begin to grow – they're sprouting.
Make the dressing: Combine all of the dressing ingredients except for the basil and oil in a blender. Blend until smooth and creamy. Add the basil leaves and oil and blend again until smooth.
Chop the broccoli into very small florets and place them into a large bowl with the sprouted rice, raisins and sunflower seeds. Pour the dressing over the broccoli mixture. Taste the salad for seasoning and add an extra pinch of salt and pepper if you need to. Garnish with the chopped chives.