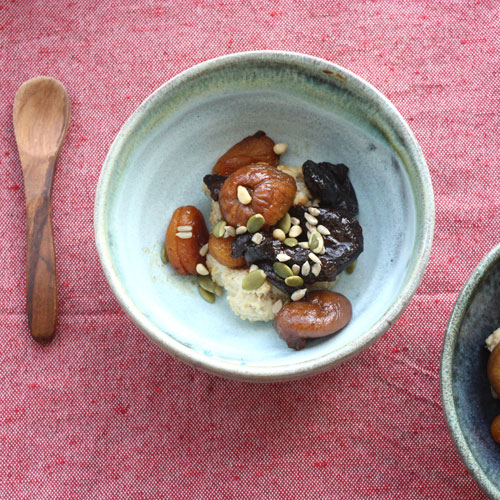 Stewed winter fruits with porridge
Ready to warm up your body? Give a twist of originality to the traditional porridge and enjoy the different textures and flavours from the selection of fruits with a nutty topping. The dried fruits are all great sources of fibre, as are the oats, which can help bind to cholesterol in the gut and carry it out of the body. The oats have a very low glycaemic index and supply steady energy. The nuts and seeds provide protein and the coconut oil provides healthy fats. What else could you need?
Ingredients:
Serves 2-3
90g/3oz dried organic apricots
90g/3oz dried organic figs
90g/3oz dried organic prunes
1 tablespoon coconut oil
1 ½ Cups of water
90g/3oz oats
Handful of mixed seeds such as sunflower, pumpkin
Method:
Put all the dried fruit in a pan with 1 cup of water and cook for around 15-20 minutes on a low/medium heat with the lid on. The fruit should soften and the water will reduce so they are slightly caramelized.
Meanwhile make the porridge, by putting the oats in a pan with the rest of the water (½ cup) and cook on a low heat for about five minutes, until the oats are cooked.
Add in the coconut oil and stir it in so it melts and mixes with the porridge.
You will need to stir it and may need to add more water, the porridge should drip off a spoon, not be solid.
Add the fruit to the porridge when cooked and sprinkle over the seeds.