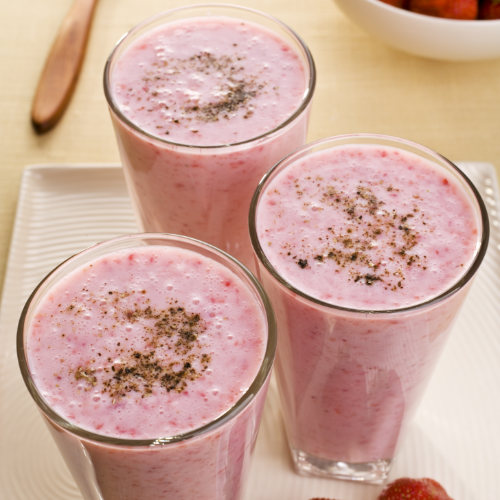 An alternative to it's traditional Indian mango version, this strawberry lassi doesn't contain any refined sugar and is rich in vitamin C and antioxidants.
Vary it by using different fruit,  peach lassi anyone?
Ingredients:
Serves 2
400g strawberries roughly chopped
300ml natural yogurt (can use a probiotic yoghurt to help your gut bacteria)
30g coconut palm sugar or maple syrup – optional – only use if the recipe isn't sweet enough without.
750ml ice cold water
a few drops of rosewater – optional
Method:
Blend the strawberries with half of the water, until it is smooth.
Add the yoghurt and the rest of the water.
Blend again.
If its not sweet enough add the sugar/maple syrup.