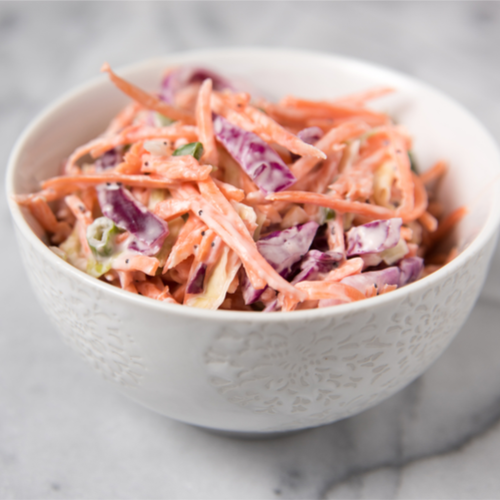 Sweet jacket potato with homemade coleslaw
Succulent, sweet potatoes are a much healthier and tastier alternative to the usual white version; they are more nutritious and have a much lower Glycaemic level, helping to keep your blood sugar levels even through the day. This delectable vegetable coleslaw adds fibre and more vitamins and minerals; it's brimming full of antioxidants.
Ingredients:
Sweet Jacket potato recipe:
2 large sweet potatoes
Thyme, ½ bunch of
Garlic x2 cloves
Sea salt
Coleslaw Ingredients
1 small carrot
½ fennel
½ beetroot
50g white cabbage
50g red cabbage
3 radishes
¼ red onion
Extra virgin olive oil
1 Lemon
½ handful fresh soft herbs (ie mint, fennel, dill, parsley and chervil) , leaves picked and choppe
50ml natural yoghurt
½ tsp mustard
Sea salt & pepper
Method:
Preheat the oven to 200 degrees. Wash and dry the potatoes.
Place on a baking tray and cook for 1hr with the thyme and garlic. When it is cooked through (crispy on the outside and soft in the middle).
Take out of the oven, slice through, drizzle with olive oil, and sprinkle over the thyme leaves and garlic with a pinch of salt. Whilst these are cooking prepare the coleslaw…
Shred the carrots, fennel, radishes, beetroot, with a sharp knife, or you could use the julienne slicer in a food processor.
Put the veg into a mixing bowl.
Slice the cabbage and onion as finely as you can and add to the bowl
In a separate bowl, mix half the lemon juice, a tablespoon of extra virgin olive oil, the chopped herbs, yoghurt and mustard.
Pour this dressing over the veg and mix well. Season with salt and pepper and the rest of the lemon juice.