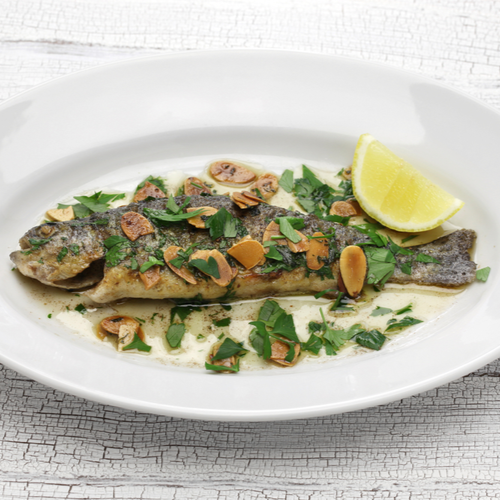 Trout with almonds, broccoli florets, peas & spiralized courgetti, with pesto dressing
Deliciously, sophisticated and nutritious- this seafood main is a sure taste winner. Trout is super rich in essential omega-3 fatty acids which help reduce inflammation levels in the body and promote healing. Plus, this dish includes a bountiful supply of green vegetables that are not only rich in vitamins and minerals, but also full of fibre, which helps provide that satisfying feeling of satiation.
Ingredients:
Pesto dressing (makes about 200ml)
50g pine nuts, almonds, walnuts or cashews, or ground almonds, or breadcrumbs
50g bunch of basil, leaves only
1 garlic clove, chopped
35g finely grated Parmesan or other mature hard cheese
About 100ml extra virgin olive oil
A good squeeze of lemon juice
Freshly ground black pepper
Method:
Preheat the oven to 180°C/gas 4.
If you're using whole nuts or breadcrumbs, spread them in a small baking tray and place in the oven for 5–10 minutes, until lightly toasted – check them often as they can burn quickly.
Leave to cool.
Put the toasted nuts or breadcrumbs, or ground almonds, into a food processor, along with the basil, garlic and grated cheese.
Blitz to a paste, making sure all the nuts are ground finely.
Then, with the motor running, slowly pour in the oil until you have a thick, sloppy purée. I normally find 100ml oil is enough but you might want a little more.
Scrape the pesto out into a bowl or jar and season with a good squeeze of lemon juice and some black pepper. This will keep, covered, in the fridge for a few days.